Support
---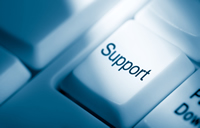 We're here to help. Whether it's a simple question on using the software, an installation problem, or something that's not working correctly, contact us so we can help you. You can call our technical support number, or you can enter a trouble report using our automated system.
Phone Support
Technical Support: (866)558-0282 Extension 5.
Use this number for help with any of our products, or to report a problem with the software.

Trouble Reporting System
You can report a problem by sending an email to our automated trouble report system. Send your email to
cases@affinite.fogbugz.com
. You can attach files to this email to provide additional information on the problem. You will receive a confirmation email that contains a link you can use to view the status of all your cases. You can provide additional information for a case by responding to the confirmation email.